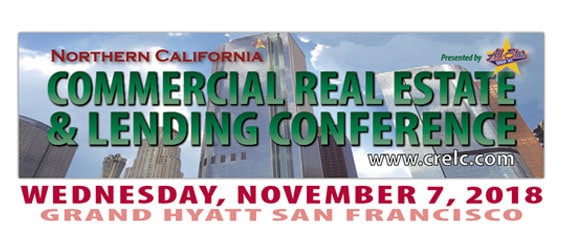 8:00 - 8:40 BREAKFAST / NETWORKING
8:45 - 9:45 OPENING SESSION - CANNABIS IN COMMERCIAL REAL ESTATE: NAVIGATING THE MINE FIELDS
Richard P. Ormand – Buchalter
Oren Bitan – Buchalter
Donte Tosetti – Bank Regulator
TBA – Investor
TBA – Retailer
9:45 - 10:45 EDUCATION SESSIONS (concurrent)
 Commercial Real Estate Lending Roundtable – Learn what lenders are looking for when underwriting Investment, Owner-User and Private Money
Gaining Market Share for Commercial Real Estate – Leaders from top firms discuss new ways to help you gain market share.
New Tax Laws effect on Investment Property – Learn from a Tax Attorney/CPA how the new Tax Laws will effect your investment property.
10:45 - 11:00 BREAK/NETWORKING
11:00 - 12:00 LENDER PRESENTATIONS
Bank of America – Kristopher Duarte
Basis Investment Group – David Burt
BofI Federal Bank –  Fred Ornelas
CleanFund Commercial PACE – Chris Robbins
Clearinghouse CDFI – Brian Maddox
Fidelity Mortgage Lenders – Herb Nunez
First Foundation Bank – Michelle Li
Forbix Financial – Matthew Savalas
Keypoint Credit Union – Steven Weiler
Luther Burbank Savings – Gabe Basso
Parkview Financial, LLC – Larry Perry
Pacific Premier Bank – Don Sonsma
Provident Bank – Gina Koenen
ReadyCap SBA Lending – Cliff Taylor
Silver Hill Funding – Bob Worthington
Spectrum Commercial Lending – Randy Jones
Umpqua Bank – Chuck Carrillo
Velocity Mortgage Capital – Shawn Denton
Walker Dunlop – Steven Hinds
Well Fargo Bank-  Roy Chiovari
12:45 - 1:30 LoanMakersTM Forum
1:30 - 2:00 BREAK/NETWORKING
2:00 - 2:45 WHAT COULD POSSIBLY GO WRONG?
This Panel will help navigate you through actual transactions that have gone wrong and what was done to close the deal.
Jeff Hudson – Walker & Dunlop (Moderator)
Paul Chandler – Property Sciences Group (Appraisal)
Jay Grenfell – Partner Engineering & Science (Environmental)
Ryan Huntsman – Chicago Title Company (Title/Escrow)
TBA – RE Broker (Real Estate Inventment Sales)
3:00 - 3:45 COSTAR ANNUAL COMMERCIAL REAL ESTATE MARKET DATA
This session will be a view of the Northern California Commercial Real Estate Market by the most reliable data of the many companies of CoStar, including LoopNet and Apartments.com.
Moderator: Keith Theige – Sr. Sales Executive, CoStar, LoopNet, Apartments.com
Commercial RE Markets, Jesse Gundershim, San Francisco Market Economist, CoStar Group
Multifamily Markets, Katerina Cheok, Sr. Market Analyst, CoStar Group
3:45 - 5:15 NETWORKING & COCKTAILS